The Single Missionary, What the Church Should Know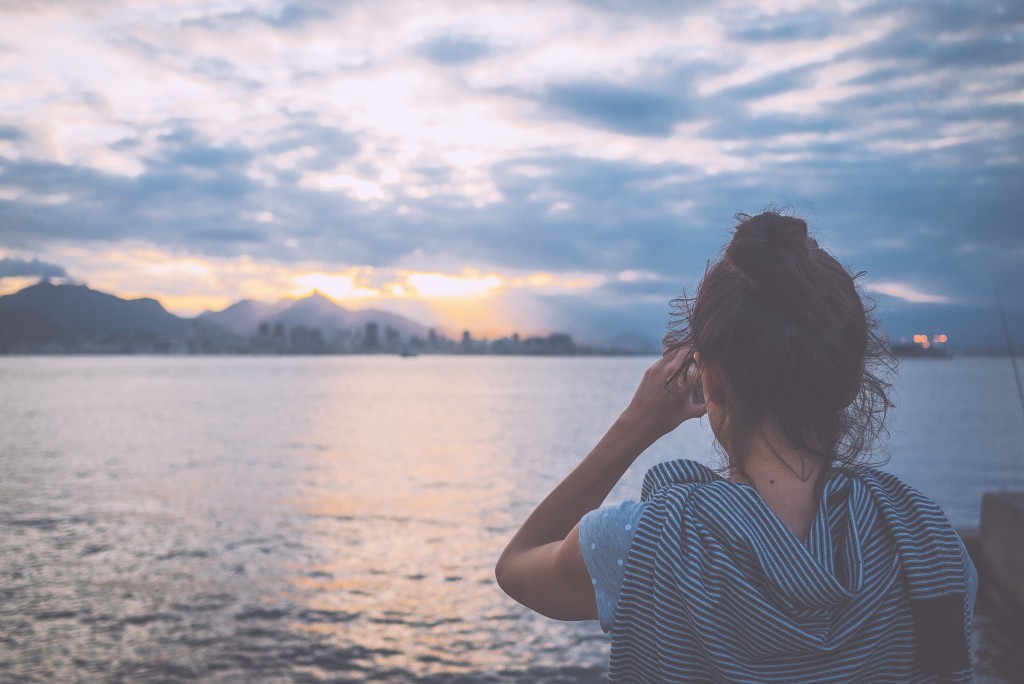 I came home after a long day in the IDP camps, tired and sweaty with barely enough energy to make myself a sad bowl of pasta (for one) before I curled under the covers. I was journaling when I looked up and saw the largest spider I'd ever seen crawling across the ceiling. I unsuccessfully tried to kill it with a broom, then worried for hours about where this alien antichrist arachnid could be when I finally breathed an exasperated prayer, "God, if you could please just send my husband."
Then the tears fell.
I'm not typically a woman who's afraid of killing spiders on her own. I'm strong and mostly fearless, but the loneliness of life overseas as a single woman was overwhelming me.
When I was younger, I was determined no one would keep me from my calling.
When I left for Africa, I wasn't sure I would ever get married. But I knew if I pursued God with my whole heart He would fulfill His promises to me. I was independent, strong-willed, and let's face it…a lot idealistic. But I needed some of that brash naïveté to be crazy enough to strike out on my own overseas.
One of my biggest fears has always been I won't fulfill my purpose.
I didn't want to be a woman who'd never lived her dreams or fell into her man's dreams and slowly became flimsy, like a cut out of a paper doll, a thin representation of her former self.
As I spoke across the country about my ministry in Uganda I'd often hear women say, "I was going to go to Thailand to work in sex-trafficking but I met my husband and we had kids and you know..."
They didn't regret their kids obviously, but there was a wistfulness in their voice that frightened me.
It seemed women were always having to choose between having a husband or living their dreams.
Equally so, many young women used to come up to me and say, "I could never do what you do because I don't have a husband," or
"I want to get married, so I can't move to a remote village where there aren't any single guys."
I wanted to call bulls*#$!
I wanted to shake their shoulders and say, "Yes you can! Don't limit yourself!'
You can break the rules. 
Except in our culture we haven't taught them they can.
Don't let the enemy make you believe the lie that you can't be used or you can't pursue your call unless you're married.
Or that you can't run off to a war zone because you need to stick close to the "dating pool."
I moved full-time to a remote region of northern Uganda as a single woman, at the age of 26, with my own nonprofit and no husband. (Not too many single bachelors there) But statistics say:
"Singleness is the fourth most common reason appointees don't make it to the mission field or take a long time getting there." (Pioneers International Report) 
This makes me incredibly sad. This means we're sending the wrong message to our singles. We're quietly withdrawing our support unless they're married in ministry.
Still, I'm proud to say that:
1/3 of missionaries are single and 80% are single missionary women (AIM)
You go girls! (Cue Beyoncé)
That means you're carrying much of the global worker force, ladies. Well done! We really need you!
Yet being single in missions presents it's own unique challenges including safety issues, suffering, loneliness, sexism, misconception by others, cultural oppression in patriarchal societies, temptations for sexual partners, being emotionally manipulated into cross cultural marriages, torn between family back home, higher levels of burnout, and grieving the diminishing possibility of marriage.
People might assume "life might be easier" for singles, but living overseas that proves less true.
In a recent survey I conducted amongst nearly 60 single women, many common threads emerged of how being a single woman missionary is especially difficult:
You're on your own; expectations are all on you
Loneliness/Isolation: No one to confide in at the end of the day
Not having the an equal level of voice when decisions are made
Needing to have more justification for time off
Being viewed as "younger or not "quite an adult" if you aren't married
Sending orgs expect you to live with other single women
No one who is there "just for you" not the ministry
Some men are intimidated by the strength of your personality
Guilt when you say no to things because you don't have a "good excuse" like family
Being treated like "a girl" instead of a woman
Being perceived as immodest or immoral
Being told "you can't" do things
Being asked 1,000 times "Why aren't you married?"
Not feeling free to spend any money on yourself (we need to get our hair done, people:)
Having a lower salary than a married couple but expected to do just as much work
Not being free to do things on your own because of safety or culture
Feeling like an outsider amongst married couples on teams
Other married women seeing you as "a threat" to their husbands
Ministering to the opposite sex seen as romantic interest
Host culture expects you to marry a national
Unwanted advances/sexual harassment
No shared responsibility: having to handle all the finances, housework, ministry on own
Being viewed as "just the babysitter"
No one to watch your suitcase when you travel (that's real)
Dating is a real challenge, especially to find someone who will support your calling
Expectations people have you should "settle down"; not recognizing your chosen path
No place for adult single working women (small groups are centered around "moms")
Burnout or compassion fatigue symptoms are considered a "hormonal thing"
Not being put in positions of leadership because you might get "too emotional"
Fears/grief around never getting married because you serve overseas
Not wanting to open up your heart again after you've invested it in someone and they leave the field a year later
Whew! That's a daunting list!
I remember there were plenty of meetings with church leaders or government officials where I felt demeaned simply for being female. 
In most foreign cultures outside America, women are not treated with the same respect as a man.
Then there are the feelings of being unsafe when you're on the back of a boda driving off in an uncertain direction at night wondering if you're going to make it without being attacked, breathing a silent prayer of relief every time you do.
Not even the fake wedding bands seem to ward off a ridiculous amount of proposals.
"Once I had a man tell me that 'he would be willing to move with me to America so we could marry so that I could produce.' I told him 'I'm not a chicken. No thank you.'" – Kelly
It's not easy. I get it.
But here are a few things we wished our churches/supporters knew: ("the Church" applies to missions teams that come over, our sending orgs, as well as individual donors)
We're doing the best we can
"I am a real person, not just 'a missionary.' I'm not superhuman. I work, play, go to church, and have hobbies. I'm just trying to do God's work like you." – Alyssa
I know we might seem like Wonder Woman, like we can do it all and have it all, but deep down we often face our own fears of inadequacy and questions of whether or not we're failing. We're not superheroes and we want to be treated with honor, but also normality. Don't put us on a pedestal. But don't insist we be martyrs either. Sometimes we fear no one knows how we're really doing and that feels dangerous.
We are far more critical of ourselves than you could ever be. We're often torn between our family's needs back home and our desire to serve this country.
We're afraid to tell you how we are because we're afraid you'll pull us off the field and this is our dream to be here.
So listen to us. Trust us when we say we can and we can't. Help us build a team of other volunteers/missionaries who can stand alongside us. Encourage us to use some of the money you give us for R&R, holiday trips, and refilling so we don't burn out. And have patience for our internet that constantly goes out meaning we might forget about your email.
We need you to respect our calling
"People say, 'Oh, that's so cute you are a missionary because you are not married. Just think when you finally get married you can stop living overseas and serve your family and don't have too save the world anymore'" – Tina
We are leaders who are capable and our vocation is central to our life. Many women reported that single women are treated much differently than single men. Single men seem to be able to do more of what they want. For single women in missions, we feel our callings are often diminished as fanciful or less valuable until we are married, or that our hands are tied due to "unsafe" conditions.
For us this isn't a trip. It's our life now, a life we sacrificed for. Our purpose is fulfilling and worth it to us.
Sarah said, "People treat you like you have all the time in the world and don't deserve any time to rest because you are the young, single person. They assume that you are the built-in servant, babysitter, cook, housekeeper, host, etc"

"I wish they could understand I do this out of obedience. I think so many people think that missionaries are just thrill seekers traveling the world because they want to (maybe some are) but this isn't an adrenaline rush… this is God's calling. People keep waiting for this 'trip' I'm on to be over. But this is about reaching people for Jesus who won't know His love unless I go." – Rachael
We need you to reach out
Even if we haven't responded. Sometimes we're overwhelmed by life here, the Skype calls slip through the cracks, but that doesn't mean we don't want you to reach out. It's better if we have an established person/mentor with a relationship of trust versus a random stranger who wants us to open up about our entire life and ministry. Build intimacy with us first, then dare to ask us the tough questions and dare us to feel the fear or hurt that lies inside.
"In the 15 years I've been here my commissioning church has only contacted me twice before my reaching out. I have 500 supporters to stay in contact with and they have 1. A little more effort would be appreciated." – Debra
Many said, letters and personal notes (emails) skype phone calls, short texts, whatsapp messages, prayers, prophetic words, even small care packages are a huge encouragement. Just to know someone is thinking about you. Many single missionaries noted it would be nice to not just be asked what the local pastors or orphans need, but what do you need us to bring over?
Ask about us as a real, multifaceted person, with loves, strengths, and hobbies. Don't just ask about the ministry or when we're getting married (sheesh!)
"I think the best thing would be for them to experience where I am for themselves, they'd have to be here to understand the full picture of my life." – Emily
Ask if it would be helpful to come visit us on a short term trip and see what it's like to live here in this culture and experience my daily life for yourself so you can respond with more empathy.
There's nothing wrong with us
"People feeling sorry for you because you are alone. They say, 'What a blessing that you are here pouring out the best years of your life for these people, but aren't you worried that you won't get married?'"
When I was a single, I was fulfilled in my life. I was pouring into girls and children who every day filled my life with love. Yes, it was lonely at times, but that didn't mean I was out looking for a man to make my life complete.
I mean it's hilarious and annoying how many times I got asked in Uganda, "Why don't you have a husband?" and "When are you going to make babies?" As if there was something wrong with me!
In many host cultures, a single or childless woman is considered  more of a "girl" than a woman. You can be seen as "worthless," or there is shame attached to being single. There's a feeling of being a second class citizen.
We are single but we are still content in our purpose.
"Know that if we desire to be married, it isn't bitterness to grieve and wrestle with that. Know we can serve in unique ways because of the freedom and richness of this season, but grieving is healthy and should be something we expect not stuff down." -Lanae
Lastly, what stood out as truly beautiful was that these women still have hope.
"The love of God is for now. You have to live one day at a time. I'm hopeful for what is to come but aware that I'm perfectly equipped and capable right now." -Rachael
They are deeply passionate about their callings. They knew the risks to their other dreams of marriage/children and they counted that cost willingly. They trust God to bring a man into their life at the right time, or they trust Him for a new season, even when that trust is challenged by outside circumstance. They're amazing.
 "God is not limited by location or occupation." -Emily
What came out of this survey for me is how incredibly proud I am of each one of you single, missionary BADASS women who has been undaunted in facing these challenges. So THANK YOU! You're amazing, courageous, and capable and I pray we can find the ways to truly honor and care for you. I am more resolved now than ever to do so.

···
**This is part of a series I'll be doing on "Singleness in Missions"– Stay tuned! My hope with these pieces is to give voice to this generation of warriors on the front lines and all you're facing. So please, email me or comment below any thoughts relevant to this topic you'd like me to write on!
 ···