Ten Lessons I Learned from a Road Trip
"Nothing behind me, everything ahead of me, as is ever so on the road."
― Jack Kerouac, On the Road
Sometimes it's hard to live in the present.
Life with its busyness seems to suck at our joy of living in the moment.
Then there are trauma's that pile high which we try so hard to ignore and disconnection that subtly crawls into the corners of our relationship with God, our spouses, and each other. But if you want to live a life of adventure, of growth, you have to be willing to shake things up a bit.
So two and a half weeks ago, my husband and I set out on what we dubbed our "Epic Road Trip 2014." After losing our second baby to a tubal pregnancy, a failure in our difficult journey of fertility, we figured now was as good a time as any to set out into the unknown. Travel has always been a first love of mine and we always set aside savings for this particular passion. This trip was different in a way. We were looking for something. Intimacy, connection, healing, a feeling of being alive. An understanding maybe. We weren't quite sure, but somehow we knew that maybe nature and the open road could offer it to us.
I realized there will never be a good time to change your life to live the one you want, or to take the adventures you keep saving for later.
We can't do it all so we simply have to decide what's most important and say yes to it, acknowledging it will mean saying no to other things. 
I decided to chronicle the adventure on Instagram and Facebook. Not because I wanted people to be jealous (really guys!) but because I wanted to invite them into our journey, into a life of possibilities. My husband and I are both dreamers, but we're the kind of dreamers who like to put a plan into action.
Ever since I was in college and first heard The Joshua Tree album by U2, I've been longing to camp out in Joshua Tree National Park.
There is something about the desert with its sparse beauty, striking color, and endless skies, that has always spoken to me.
I'll admit we also wanted to see what the LandCruiser could do on some off-roads. We mapped out our trajectory to take us through Mammoth Lakes, Death Valley, Joshua Tree, Vegas, Temecula Valley, Desert Hot Springs, Carmel Valley, and then home.
We bought some good tires, a wireless antennae which more closely resembled a phallic symbol than a technological device so we could do some work while driving, some sturdy camouflage colored bins to hold our supplies, and I even assembled a Bug Out Bag in case of emergencies. I printed out an Excel spreadsheet of everything we would need on the trip: headlamp, camping food, hiking boots, tripod, a good book to read, and of course my Alps Mountaineering camping pad which was a lifesaver. I remembered everything on my list except my deodorant apparently, because that was the one thing I forgot. Oh, that and my pillow. Which turned out to be (as Job in Arrested Development would say) "a terrible mistake."
But like every good journey, it took preparation.
The morning of our departure, we rose before the sun and nestled RosieTheChippin in her heap of blankets behind us, and took a hard look at one another by the yellow interior light and realized we were going to voluntarily stick ourselves in that small space with each other for a long time in between discarded In-N-Out wrappers, Diet Dr. Pepper cans, a talking GPS, and the almost inevitable smell of B.O. and we wondered if we would make it out the other side still friends.
The plan was to camp in Reds Meadow campground the first night. A little campsite near the resort we had come to love in Mammoth. As fate would have it, when we pulled up to the green sideboard of the park ranger station after hours of driving and stopping to pee, and stopping to let Rosie pee, we were curtly informed the camp had already closed for the winter. First stop on our journey, and I was already disappointed. Night was coming on fast and we didn't have a lot of options. But one thing Africa taught us, and a lesson we seem to learn over and over again is: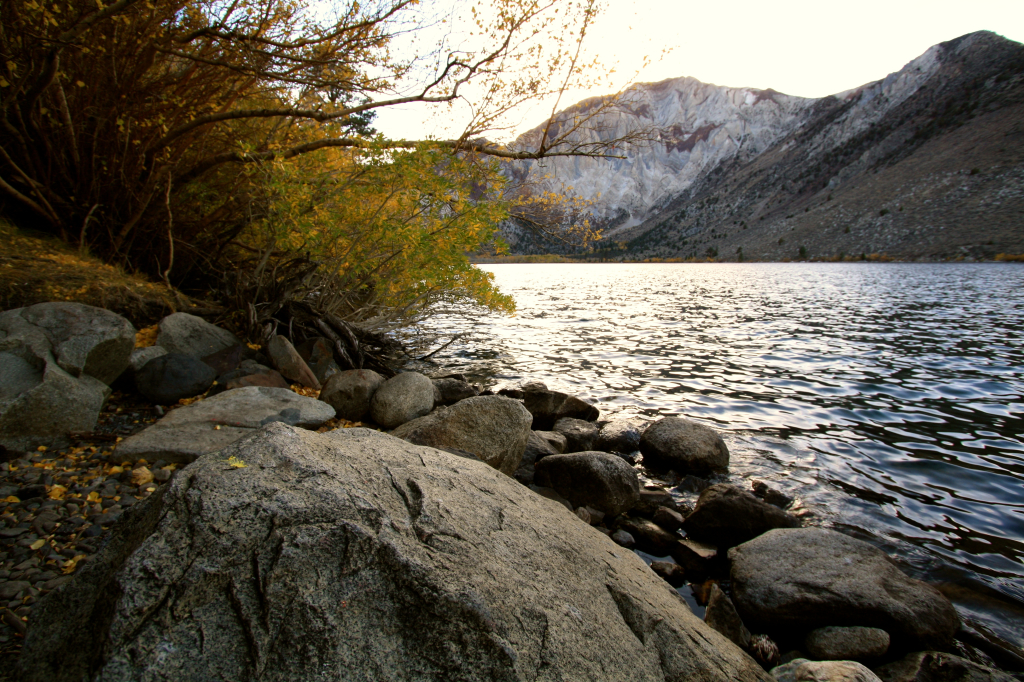 Lesson One:
It's good to have a plan, but when the plan get's derailed, it's more important to be gracious about losing control.
So I sucked it up and yelped the nearest campsite that the Ranger said was open. It was Convict Lake, and apart from the name, it was lovely and private, banked by the granite face of the Sierra Nevada mountains. The campsite host struck me as someone who really loved her job, as she sold us a cord of wood with a genuine smile. I couldn't blame her, surrounded by all the golden aspen trees shedding their leaves into the lake, it would be hard not to be happy.
We took a walk and breathed in all that yellow.
Lesson Two:
Gratitude is a choice worth making.
We didn't sleep very well because of the cold and rather than fight it we decided to break camp at 4 am and try to chase the sunrise over Death Valley to make it down to a special little place called Saline Hot Springs that I'd read about. Our headlights only cut through the darkness a few feet in front of us as we turned off the gravel road onto a dirt trail that climbed a hill. Google had told us to go this way, but we weren't quite sure because we'd lost phone connection several miles back. The explorers in us pushed us forward.
As we crested the hill somewhere in the Inyo National Forest, I remember thinking I couldn't have designed a more perfect sunrise if I had dreamt it up myself. The midnight blue was gradually giving way to pink and amber. We rushed out of the car with my new Canon wide angle lens and set up the tripod, fueled by the excitement of someone discovering a brand new world. Every time I turned around, there was more beauty. The White Mountains highlighted fuchsia behind me resembled a landscape painting.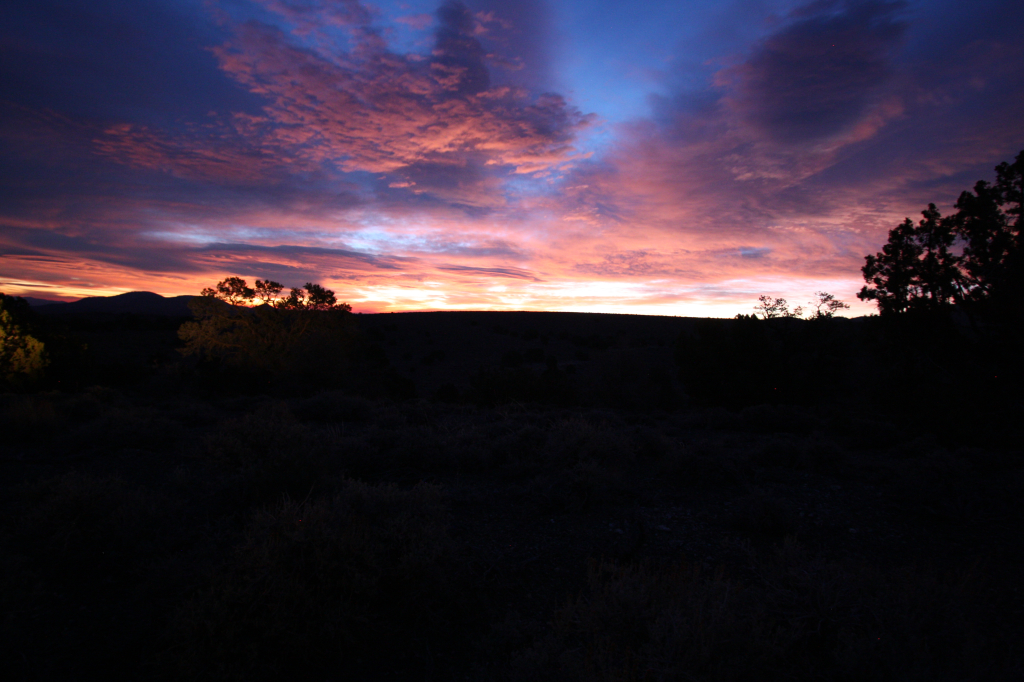 As I looked out across to the mountain and the valley in between it struck me:
Lesson Three:
I know now for sure this one life is indelibly worth living. Even in the face of all that gets lost.
This world is bigger than we thought. America itself is so vast and magnificent and California is a true expression of that. I thought I had to leave the country to find what I was looking for, but we don't have to go very far outside our own backdoor to seek wonder.
There is so much to explore and be altered by. In a world this big perhaps there are possibilities, possibilities for a grander life.
We careened into the white sands of the Mojave Desert in the northwest corner of Death Valley National Park just as it was starting to get warm. Death Valley is the lowest, hottest, and driest area in North America. In the summer, temperatures easily reach 120 degrees Fahrenheit because the valley is buffered on all sides by mountains which trap the heated air, mimicking a convection oven. October and November are perfects months to go visit because of the cool morning temperatures that cling to the day.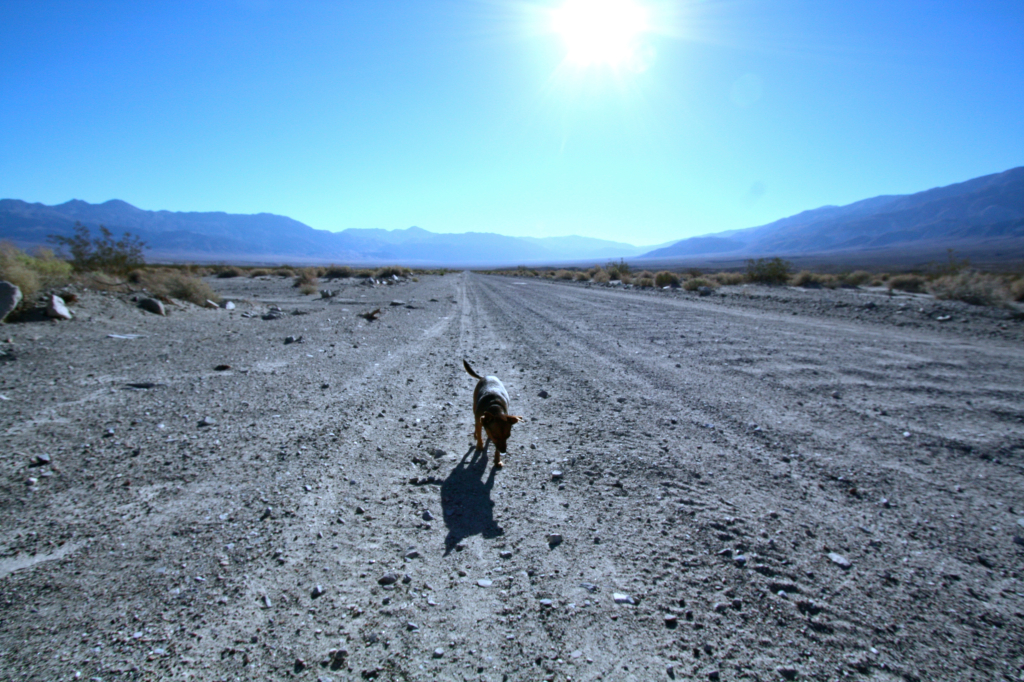 After several hours of driving and stops along the way to check our directions, we saw a circled cluster of palm trees rising out of the desert floor like an oasis mirage. We set up camp next to Saline Valley Hot Springs which are a collection of natural pools off the beaten path that are rustically maintained by an eclectic and generous community of nude hippies. I'd read about the springs from a NY Times article and knew immediately that I had to visit. The trip there is not for the faint of heart as they are extremely remote and visitors need 4WD vehicles with good tires to get there. There are toilets, but no food services so it's essential to bring enough water and a shade structure. Being newbies, we forgot the shade structure, but took shelter under a clump of palm trees. People were friendly and generous with their advice, but we mostly kept to ourselves and read out loud to each other an amazing book on sustaining love relationships. (Tyson can only handle about one of these a year, but I'm grateful:)
The desert seems an inhospitable place at first, the cratered moon rock cradled by the White Mountains, the endless expanse of nothing in every direction.
But to me the desert seems a birthplace for all things new.
Lesson Four:
Perhaps we do go out to the desert to die, to die to ourselves and the idea of who we thought we would be and the life we thought we might have and finally accept the one we are in, where we realize, where we are right now, toes whitened by the sand and sunburned by the sun, is its own kind of beauty.
I think of Abraham and Moses eking it out in the desert, walking headfirst into the unknown, following the Voice inside them. Deserts can be harsh and lonely, but there in the quiet, character is being built, and an ear is trained to the soft whispers of God carried on a high wind. But in the desert, there are choices. Choices to resist, or choices to be molded by it. Choices to run, or choices to see it as an opportunity for growth and stay until God says "Move."
Sometimes we view the desert as a punishment, some kind of penance for an infraction. But very rarely do we realize that God led His people there. Not out of meanness, but for connection. Not out of penalty, but for promotion. He knew they needed something there for the next part of their journey. 
As we slipped into the warm springs the next morning around 6am, (a perfect time if you want privacy) we felt like we were the only people on the planet watching that particular sunrise and we were so blessed and grateful to be a part of that moment.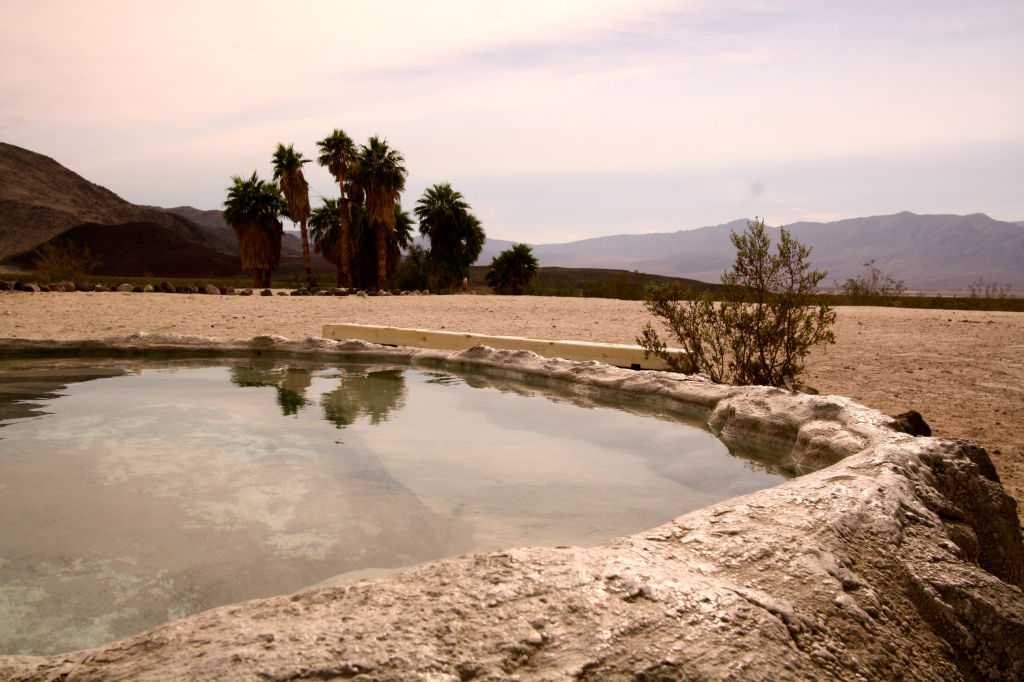 Time slowed, and we felt again what living was really about. Nature and gratitude offered us those gifts.
But they are hard won and fought for. What's worth it, usually is.
After all that solace, Vegas was a harsh reality to enter. As Tyson says, "Vegas usually takes more than it gives." I am still processing the lessons learned there, as they were painful realizations of all the ways I still need to grow. Sometimes we hold on too long to what is familiar even though it isn't healthy. My personality type has to learn to let go and not be plagued by such self-imposed guilt. Self-care does not come naturally to me, but I'm learning love can be unconditional but also have boundaries. Therapy is good for that

Lesson Five:

There is always grace to cover our stubborn imperfections.
Pulling into the bouldered refuge of Belle Campground while blasting U2's The Joshua Tree album, was a kind of hazy dream I remember having once and balm to a blistered soul. People have often sought out Joshua Tree as a kind of spiritual haven and being there felt like a kind of magic.
Perhaps it is one of those "thin places" where we can meet with our Creator in a special way.
Lesson Six:
The desert absorbs all kinds of losses.
It slips into a long, mystical twilight in deepening amber, brought on slowly like the gradual heating of a warm bath. It gives back a kind of peace that cradles in your bones. While it might seem that survival would be difficult out there, there is healing to be found in the fireside quiet, the silhouette of the stones against the blue horizon, and the myriad constellations. 

And all the things that seemed important, all the losses seem to lose their power against its wild and intangible truths.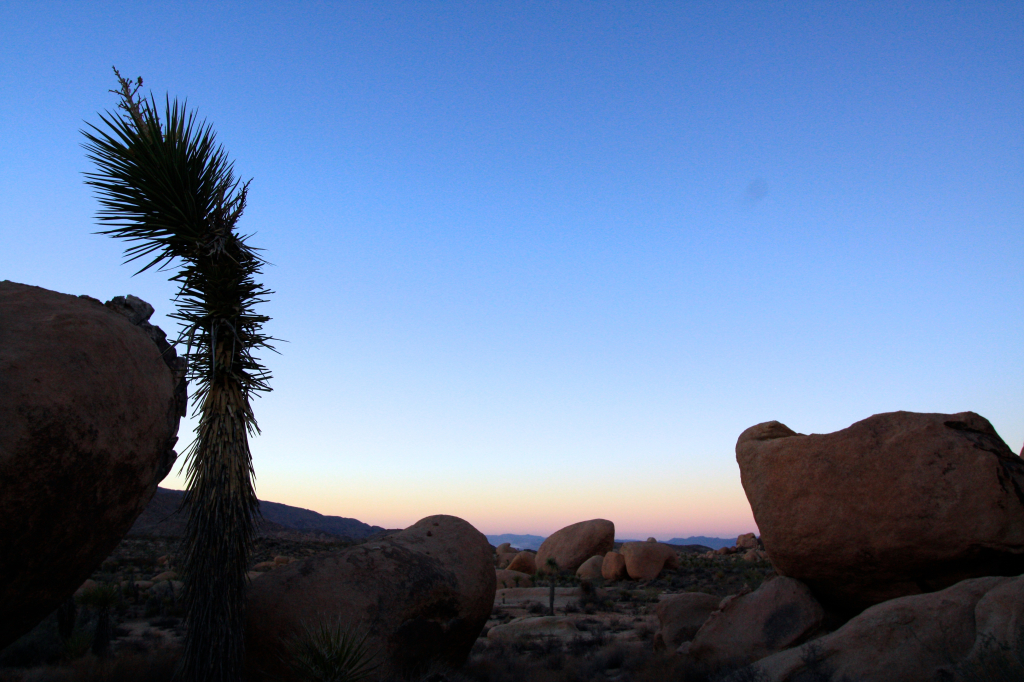 There are as many stars and galaxies as there are grains of sand on the earth.
Life is so much bigger and creation is so much larger than what we can comprehend. The horizon of the desert meeting the heavens is so expansive, it puts all our problems into perspective. It humbles us not because we are small, but rather that we can glimpse our part in a larger story, our importance in the purposes of the world.
The same atoms that make up the universe, the stars, are in us. As the famous astrophysicist Neil deGrasse Tyson said,
"When I look up at the night sky, I realize the universe is in us. Many people feel small, but I feel big because my atoms came from those stars, and I feel a level of connectivity, a relevance, that I'm a participant in the events going on around me, and that's what we are, simply by being alive."
Lesson Seven:
To me God is whatever spark that gives life and life can be found at any moment in which we stop to contemplate its sacredness.
I read an article recently on how busy we are as humans and how it's killing us.
There's something about nature that lulls me into a rhythm of rest. It doesn't hurry. It performs the same tasks of the sun rising and setting and the stars appearing every day with a kind of peace I want to settle inside me.
It says it's ok to rest, it's ok to be, it's ok to live here and now and not be worried about proving our worth or value to the world.
Which leads me into,
There is so little we actually need to be happy.
We came across a young German couple on endurance motorcycles who traveled to America to tour it for eighteen months. They took the risk of leaving everything behind and all they had with them with their packs strapped to the backs of their bikes. As the girl bent down to pet Rosie, I could see she was brimming with a kind of unburdened effervescence. No doubt, six months in, the journey had become long. But what I could see in her was that she was following her bliss, doing exactly what she wanted most at that time on the planet. I don't think she missed all her material goods back home.
The desert strips us bare of all the things we think we need to give us meaning.


The road trip continued and we arrived dusty and a little bit tired from nights of camping to our favorite little retreat called The Spring, in Desert Hot Springs just outside of Palm Springs. There we had some much needed R & R, I got my first facial, and we celebrated our August wedding anniversary that we had missed because we'd been sitting devastated in a hospital room saying goodbye to a baby we hadn't met.
Soaking in the warm pools, I reflected on
Lesson Nine:
It's ok to take care of yourself, whatever that looks like for you.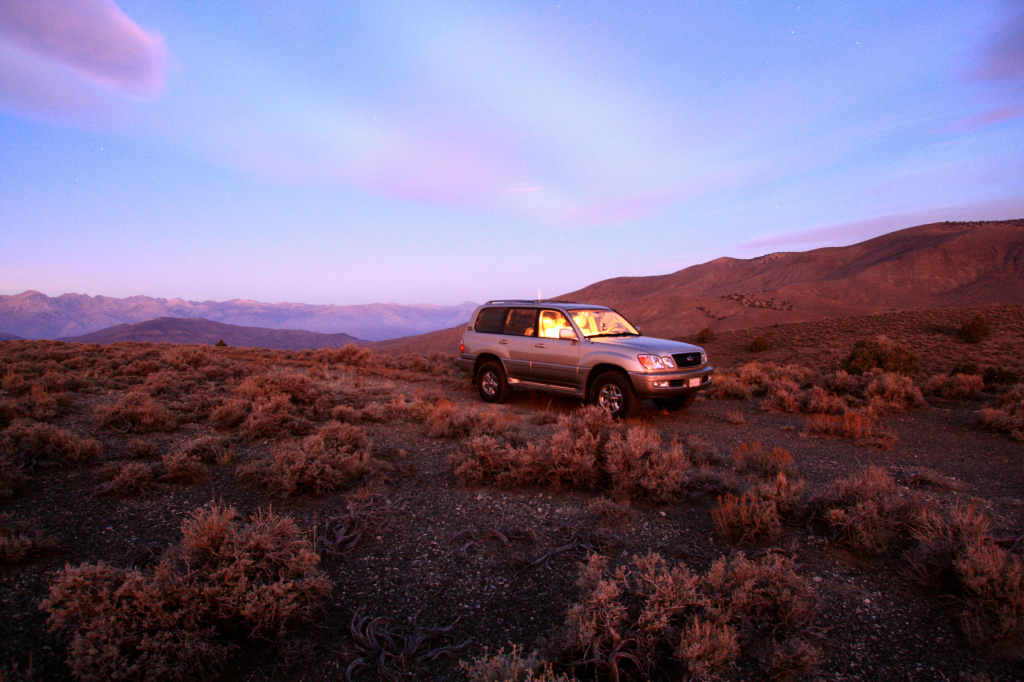 And it's actually good, not selfish, to be clear about what you need because no one is able to read your mind or do it for you.
This is a growth point for me. Especially when everywhere I see women or mothers who seem to be able to "do it all," and juggle their careers, their husbands, their kids, and somehow still find time to put a meal on the table, vacuum the floor, or make it to the gym. I stand in awe of them. And yet I'm scared by how overwhelming it all sounds.
I'm trying to figure out what it's going to look like for me and accepting it doesn't have to look like someone else's life. As women we so often feel like we're failing on one front or the other. I'm on a quest for a balanced life, and yet I realize that balance requires priorities. And my priorities might look different from someone else's.
I have to remind myself: Put on my own oxygen mask first. 
After the beautiful wedding of my dear "Africa friend," Cass in the stunning Temecula Valley, Tyson and I toured a picturesque winery and ate a long, lazy lunch connecting and sharing some of the best french fries I've ever had. Those who know me know I love long lunches outdoors. It's probably my favorite. I added Temecula to the list of places I could definitely live and then we headed to the L.A. area to see friends.
We walked along the Venice Beach pier after a day of doing work on our respective jobs (Yes, we have jobs

in a coffee shop and I was shocked again by the allure of the California coast. Well that and I got to stand where David Duchovny has stood, which made me pretty happy.
At the beginning of our trip two weeks prior, we had big plans to continue on up through Carmel Valley, Big Sur, and San Francisco, which are some of my favorite places with some of my favorite people, but when we got in the Land Crusier again and looked at each other's faces after one more In-N-Out stop (yes it is possible to eat too much In-N-Out) we both instinctively knew we wanted to turn onto the I-5 and head home.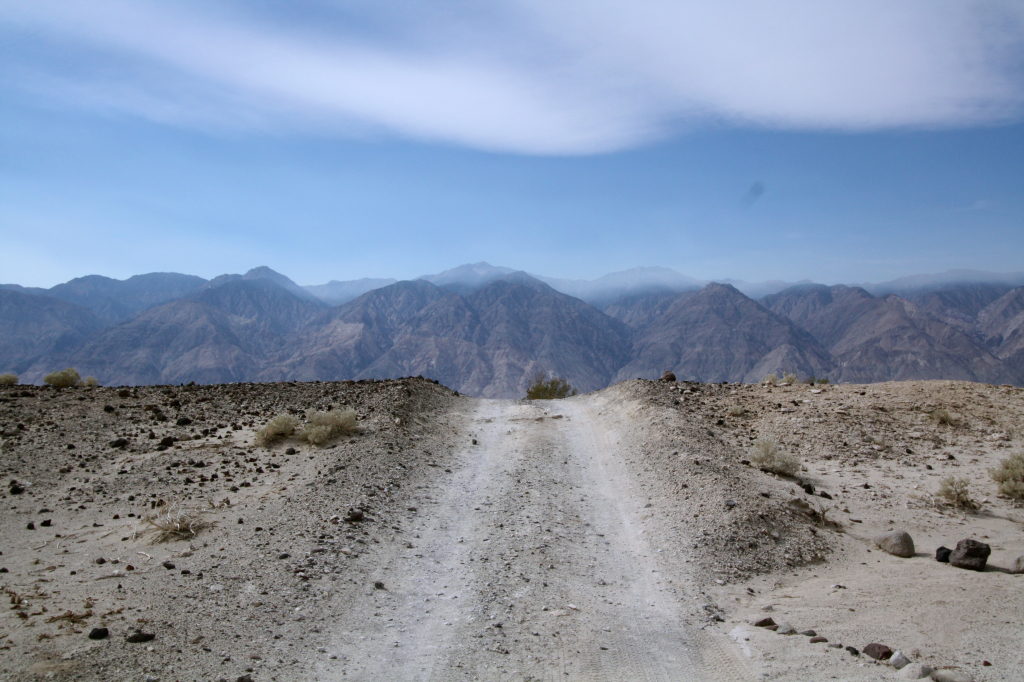 Lesson Ten:

Listen to your inner compass and know when it's time to go home. 
Your body has a knowledge all it's own and if you listen, it can tell you what you need. Your season is not anyone else's season. Live in your own.
When we pulled into the garage and I ran upstairs to collapse in my own bed, I appreciated it in a new way, a way only a weary traveler knows.
Home can be anywhere you decide it is, especially with the right people, but wherever it is, it's good to have a safe space all your own where you can be you.
All good things must come to an end. Even epic road trips.
But the good news is, new lessons and adventures are always around the bend.